Kestrel Makes is co-hosting the Vintage Sewing Pattern Pledge this year. I decided that I'd like to join in, saying that I would sew one vintage pattern this year. (I don't want to overextend myself!)
I settled on the 1970s as the decade whose style I wanted to explore. I wanted to find something relatively easy, but with a couple of added details that would allow me to try a new technique. I found Simplicity 5914, a shift-like dress with a collar and cuffs, along with a waist seam (unlike a true shift), which fit the bill.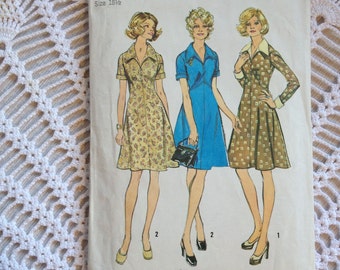 I ordered the pattern in size 18.5 from eBay; I couldn't find one in 18 or 16.5. My plan is to try to tissue fit the pattern, as it's already cut in that size, or to trace the pieces slightly smaller. What should I do? I'm excited about learning how to do a collar and cuffs. I plan on starting a practice run of this dress this weekend.
I wonder why Simplicity doesn't print patterns in half-sizes anymore?